SPMS Winterguard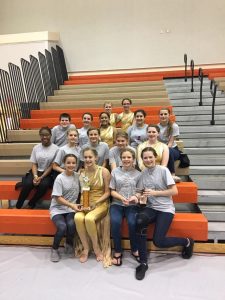 Wednesday and Thursday Practices will begin August after school  until 5:30 PM.
Team members should wear all black (no spaghetti straps nor spandex shorts) and wear their hair up, and bring water & a quick snack

HELPFUL LINKS AND IMPORTANT FORMS:

Fill out the SJCSD volunteer form in order to volunteer with the Winterguard

---

Contact Us

Sarah Lewis, SPMS Faculty Sponsor
Direct all inquiries to:
[email protected]


---

SPMS GUARD IS A MEMBER OF:


2016-2017 Competition Schedule


---

2016 – 2017 Audition Information:
SPMS Winterguard Audition Packet 2017-2018


About Us…
Winterguard is often referred to as the "sport of the arts". Combining individual strength, agility, and discipline, while interpreting music through dance using flags, rifles, and sabers, Winterguard is truly a team effort that culminates in an overwhelmingly beautiful group performance.

Since its beginning in 1994, the Switzerland Point Middle School Winterguard has continued to grow and excel. Over the years the guard has competed in the Florida Federation of Colorguards Circuit against other guards in our region which extends from north Florida to central Florida.

We recently completed another successful season!  If you would like up to date information, contact Sarah Lewis at [email protected] to join the Winterguard Edmodo page.