SPMS Get Ready for School Events
Join us soon as we welcome students and families to pick up class schedules, receive textbooks, and more!
6th Grade Tuesday, July 31st Back to School Flyer
7th/8th Grade Thursday, August 2nd Back to School Flyer
Be sure to bring these completed "Back to School Paperwork" forms with you to join the Fast Pass Line! For reference, a copy of the District Code of Conduct can be found here.
Making the Move to Middle School 6th Grade Camp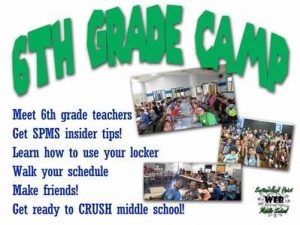 Sign up is still available for 6th grade camp! Our two-day camp (July 30-31, 2018) allows rising 6th graders to receive their schedule, books, and locker, meet teachers and other students, make friends, become familiar with the school, and be confident and ready for the first day of middle school!
Register online at https://goo.gl/forms/Nlr5khJQw74OXX2E2 and submit $70 payment with the attached form. Cash or check can be dropped off at SPMS or checks can be mailed. Sign up today as limited space is available!
SUMMER HOURS
May 29 – July 27, 2018
Monday – Friday 7:30am – 3:30pm
NEW STUDENT REGISTRATION
New student registration is completed by appointment. For more information on registering your student, please visit our Guidance Page: http://www-raider.stjohns.k12.fl.us/guidance/new-student-registration/. To set up a registration appointment, please contact Jennifer Schwall at 904-547-8627 or by email at [email protected].
2018-2019 SCHOOL YEAR SUPPLY LISTS
SPMS 2018-19 6th Grade Supplies
SPMS 2018-19 7th Grade Supplies
SPMS 2018-19 8th Grade Supplies
SPMS 2018-19 Self Contained Access Points Supply List
SUMMER ACTIVITIES AT SPMS
SUMMER READING: This year, SPMS summer reading is being done through the St. Johns County Public Library, Bartram Trail branch. Please visit the branch or click on this link for more details.
Students are also encouraged to read one of the 2018-2019 SSYRA books over the summer. The list of books can be found here.
SUMMER VOLUNTEER OPPORTUNITIES
Our staff is working hard to prepare for an exciting new year and can always use some help! Students interested in volunteering over the summer should contact Ms. Schwall at [email protected] for details.
Volunteers are needed to assist with our Get Ready for School Events on July 31st and August 2nd! Please visit this link to sign up!
eBooks at SPMS!
SPMS now has eBooks! Our eBooks are available through our library circulation platform Destiny. There is a link to Destiny on the SPMS Student Link page and on the Media Center webpage.
These digital books can be read on any computer, tablet or phone when connected to the internet. Books can also be downloaded to a device for use when not on the internet.
To find/use the books follow the steps on this attached document.
---
This site includes hundreds of interactive resources to support student learning in language arts, mathematics, science and civics. The site is readily available to the public and does not require a logon or password to access. The site is designed to support students outside of the school day. The resources are not meant to be used as classroom lessons or to replace classroom instruction.
Premier     

     Sponsor 
---
---