 Important Message Regarding COVID Screening and Quarantine Information
REMINDER:
Review the
Health Questionnaire
daily with your student. Students MUST stay home from school when they are ill, awaiting COVID-19 test results, or if anyone in the household is COVID-19 positive. Thank you for partnering with us to help protect the safety of all students and staff.
PARENTS: To report a positive case of COVID-19, please first call the Department of Health at (904) 506-6081 for guidance on next steps. Please contact the front office as well at (904)547-8650. To report a positive COVID-19 test result to the front office after hours, please call the school's main number and leave a message.
CDC updates regarding quarantine requirements after vaccination:
Individuals
who have been fully vaccinated – that is, 2 weeks or more have passed
since the second dose in a 2-dose vaccine or the first dose in a 1-dose
vaccine series – will not be required to quarantine following exposure,
provided he/she does not develop new symptoms of COVID-19.
The Department of Health (DOH) requests that we follow the current
contact tracing protocol, regardless of vaccination status. They will
contact exposed individuals to ensure no symptoms have developed,
research his/her vaccination status in the state system, and provide
further COVID education. The DOH will determine if the individual is
exempt from quarantine. The Health Services Department, as well as the
school nurses, will work diligently to assist students, parents and
staff in this process
ESE Parent Advisory Meetings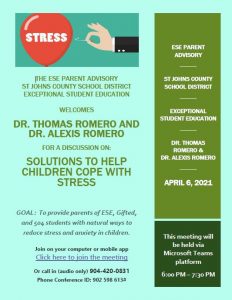 On April 6th from 6:00pm to 7:30pm, the ESE Parent Advisory will welcome Dr. Thomas Romero and Dr. Alexis Romero for a virtual discussion titled "Solutions to Help Children Cope with Stress." Join the meeting online via Microsoft Teams or join via phone by dialing 1-904-420-0831 and then entering the conference ID: 902 598 613#
This is just a reminder that anyone (parent, guardian, neighbor, aunt, uncle, etc.) must have school access to attend an event at SPMS, including IEP/504 meetings. If you have not already done so, please complete the School Access Form. The process for approval may take up to 4 weeks, so please fill out the application sooner than later for anyone that would like to have school access. Once the application is approved, school access will be valid for three years.
This site includes hundreds of interactive resources to support student learning in language arts, mathematics, science, and civics. The site is readily available to the public and does not require a logon or password to access. The site is designed to support students outside of the school day. The resources are not meant to be used as classroom lessons or to replace classroom instruction.
FortifyFL is a website and app developed at the direction of the Florida Legislature. Any student, educator, parent or member of the public can report school safety concerns directly to law enforcement and school administrators anonymously and easily through the FortifyFL app or getfortifyfl.com.
FAQ for Emergency Order 2021-EO-02 (Spring 2021 Assessments, Promotion, Retention, Graduation, VPK)
The SJCSD Guidance Department has provided an FAQ to answer common questions about Executive Order Number 2021-EO-02 which was recently issued by the Florida Department of Education. The FAQ discusses the impact Executive Order 2021-EO-02 will have on assessments, promotion, retention, graduation, and VPK.
---
High School III Proposed Zoning Plans
With High School III currently under construction and planned to open for the 2022-2023 School Year, St. Johns County School District released Proposed Zoning Plans on March 23rd. These plans will impact a number of current attendance zones.
At this time, the proposal for High School III impacts the current attendance zones and student at Allen D. Nease High School and Bartram Trail High School, Fruit Cove Middle School, Alice B. Landrum Middle School, Liberty Pines Academy, Pacetti Bay Middle School, and Switzerland Point Middle School.
The proposal for West End at Town Center impacts the current attendance zones of Palm Valley Academy and Pine Island Academy. The proposal for River Landing impacts the current attendance zones of Allen D. Nease High School and Ponte Vedra High School.
High School III is located within the Twin Creeks development at 1070 Beachwalk Blvd. Other possible attendance zone changes relate to West End at Town Center and River Landing, both in the Nocatee development.