Tuesday, September 27
Girls Volleyball vs Fruit Cove (H) @5:30
Boys Volleyball vs Fruit Cove (H) @6:30
Wednesday, September 28
Early Dismissal at 12:50
Thursday, September 29
Girls Volleyball vs Sebastian (H) @5:30
Boys Volleyball vs Sebastian (H) @6:30
Parent Drop Off and Pick Up
Morning drop off starts at 7AM. There will not be supervision before 7 AM so please do not drop your student off earlier unless they have arranged to meet with a teacher.
While waiting to pick up or drop off your student please be mindful of not blocking entrances to local neighborhoods or parking on their grass/private property. We want everyone to be safe while traveling and waiting.
Morning drop-off: Your student should be ready to get out of the car as soon as you enter the gate to the school. You may be directed to pull forward or to pull around the loop. Either way we ask that you pull all the way forward to the cone so we may keep the flow of traffic moving. If you pull around the loop we ask your students exit on the right and move into the grass at the right. In the morning, there will be no parking in the roundabout. This is for drop-off and thru traffic only.
The expectation is that students are in first period/homeroom by 725.

Afternoon pick up: Please be sure to pull all the way forward and have your student come to you so we may keep the flow of traffic moving.

The first few days of school we will be handing out signs for car riders to put in their window. We ask that you put your student's name, nickname or a word that you and your student agree upon. We will be announcing whatever name or word you have chosen so your child knows to get to the car quickly.
Important Message Regarding COVID Screening and Quarantine Information
REMINDER:
Review the
Health Questionnaire
daily with your student. Students MUST stay home from school when they are ill, awaiting COVID-19 test results, or if anyone in the household is COVID-19 positive. Thank you for partnering with us to help protect the safety of all students and staff.
PARENTS: To report a positive case of COVID-19, please first call the Department of Health at (904) 506-6081 for guidance on next steps. Please contact the SPMS Clinic as well at (904)547-8628. To report a positive COVID-19 test result to the front office after hours, please call the school's main number and leave a message.
For more information regarding COVID-19 school district procedures please visit https://www.stjohns.k12.fl.us/news/topic/covid-19-coronavirus/. Please visit the link below to find out more information on SPMS procedures. 
Class Size Letter 2021-2022
School Safety Letter 2021-2022
This site includes hundreds of interactive resources to support student learning in language arts, mathematics, science, and civics. The site is readily available to the public and does not require a logon or password to access. The site is designed to support students outside of the school day. The resources are not meant to be used as classroom lessons or to replace classroom instruction.
This is just a reminder that anyone (parent, guardian, neighbor, aunt, uncle, etc.) must have school access to attend an event at SPMS, including IEP/504 meetings. If you have not already done so, please complete the School Access Form. The process for approval may take up to 4 weeks, so please fill out the application sooner than later for anyone that would like to have school access. Once the application is approved, school access will be valid for three years.
FortifyFL is a website and app developed at the direction of the Florida Legislature. Any student, educator, parent or member of the public can report school safety concerns directly to law enforcement and school administrators anonymously and easily through the FortifyFL app or getfortifyfl.com.
"Connecting Families to Community Resources" on Oct. 4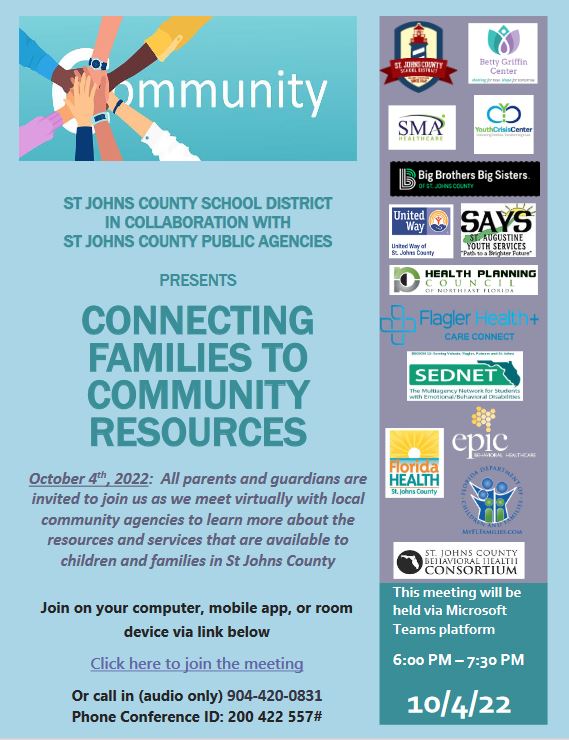 Please join us on October 4, 2022, from 6pm to 7:30pm for a virtual discussion titled "Connecting Families to Community Resources." All parents and guardians are invited to join us as we meet virtually with local community agencies to learn more about the resources and services that are available to children and families in St Johns County.
Secondary STEM Fair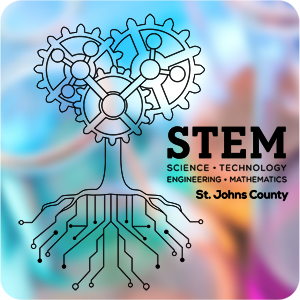 Our school supports STEM! If you are interested in participating in our county Secondary STEM Fair, ask your science teacher about getting started with a project!
To learn more, please visit the Secondary STEM Fair web page.