NJHS Applications for 7th/8th Graders
In addition to submitting the two forms above (based on current grade level), students must have 3 teacher recommendations from any current or former teacher. Recommendations can be submitted by teachers using this link or the attachment below.
Online Resources for Families
Office Hours: 7am-2:50pm (by appointment)
PayPAMS to Replace SchoolPay for Meal Payments
The Food and Nutrition Services Department will no longer be using SchoolPay for prepayments of breakfast and lunch, and have switched back to PayPAMS. Parents/Guardians will need to create a new account, even if you used PayPAMS in the past. Previous accounts are no longer valid. Please see the attached PayPAMS brochure for information regarding setting up your account, and other information regarding all the benefits of PayPAMS.
ESE Parent Advisory Meetings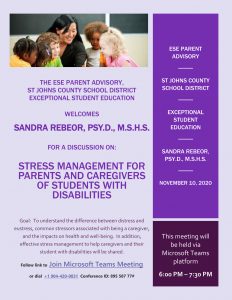 On November 10th from 6:00pm to 7:30pm, the ESE Parent Advisory will welcome Sandra Rebeor, Psy.D. M.S.H.S. for a virtual discussion titled "Stress Management for Parents and Caregivers of Students with Disabilities." Join the meeting online via Microsoft Teams or join via phone by dialing 1-904-420-0831 and then entering the conference ID: 95 587 77#
This is just a reminder that anyone (parent, guardian, neighbor, aunt, uncle, etc.) must have school access to attend an event at SPMS, including IEP/504 meetings. If you have not already done so, please complete the School Access Form. The process for approval may take up to 4 weeks, so please fill out the application sooner than later for anyone that would like to have school access. Once the application is approved, school access will be valid for three years.
This site includes hundreds of interactive resources to support student learning in language arts, mathematics, science, and civics. The site is readily available to the public and does not require a logon or password to access. The site is designed to support students outside of the school day. The resources are not meant to be used as classroom lessons or to replace classroom instruction.
FortifyFL is a website and app developed at the direction of the Florida Legislature. Any student, educator, parent or member of the public can report school safety concerns directly to law enforcement and school administrators anonymously and easily through the FortifyFL app or getfortifyfl.com.
2020-2021 Instructional Materials Adoption for English Language Arts (ELA)
The St. Johns County School District curriculum department formally announces the review process for the 2020-2021 Instructional Materials Adoption for English Language Arts (ELA). The core resources that have been submitted for evaluation have come from the state adoption bid list and other submitted resources from publishers when available. Additional resources for advanced programs may be reviewed from materials listed as appropriate for the program indicated.
Please visit the instructional materials website to view the resources that are being considered for adoption. If you would like access to any available printed materials or require assistance reviewing the online resources, please call the Instructional Resources and Media Services office at 904.547.3947. Materials are available for review from 8 a.m. - 4:30 p.m.
We encourage parent and community participation in our adoption process. If you would like to serve on a school committee and formally review the resources as a part of the school review team, please contact any school or our office at 904.547.3947.