New for 2023-2024 — Students will now use Clever to access Schoology, Office 365, Online Textbooks, and other Links for Students.
December 4 – Basketball Tryouts  Start
December 4 – Student Council Drive for Holidays starts
December 5 – Middle School Blitz 
December 6 – 12 days of Swissmas starts!
December 7 – Character Chats! 
The countdown is on to the best week of the year – BOOK FAIR WEEK!! The Scholastic Book Fair will be returning to the Swiss Point library from December 1st through December 8th! Please visit our book fair homepage at https://www.scholastic.com/bf/switzerlandpointmiddle to preview the fair and set up an eWallet if needed. eWallets let students shop the fair directly – no cash or credit card necessary! However, we do still take cash, check, card, or Apple/Samsung pay. Please note that the materials available for purchase at the Book Fair were not selected by the St Johns County School District. We encourage parents to review their child's wish list and have a conversation about what they are allowed to purchase at the book fair before sending money to make any purchases. Purchases can also be made online – all orders ship directly to your home, and shipping is free for book orders over $25. Every online purchase will also benefit our school! Please email [email protected] if you have any questions regarding the book fair.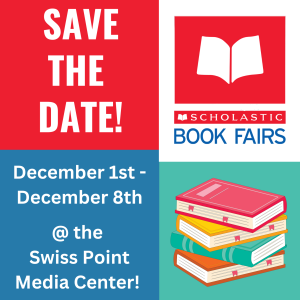 This site includes hundreds of interactive resources to support student learning in language arts, mathematics, science, and civics. The site is readily available to the public and does not require a logon or password to access. The site is designed to support students outside of the school day. The resources are not meant to be used as classroom lessons or to replace classroom instruction.
Instructional Materials Adoption Update
The adoption review of Social Studies resources for the St. Johns County School District has ended. Resources that were selected by adoption committees for submission to the School Board for adoption consideration are available online. All selected resources have been approved and adopted by the Florida Department of Education. Updates will be posted when appropriate.
Some print materials may be available for review. If you would like access to the available printed materials or require assistance reviewing the online resources, please call the Instructional Resources and Media Services office at 904.547.3947. Materials are available for review from 8:30 AM - 4:00 PM when district offices are open.
For more information about the textbook adoption process, please visit the Florida Department of Education Instructional Materials web page.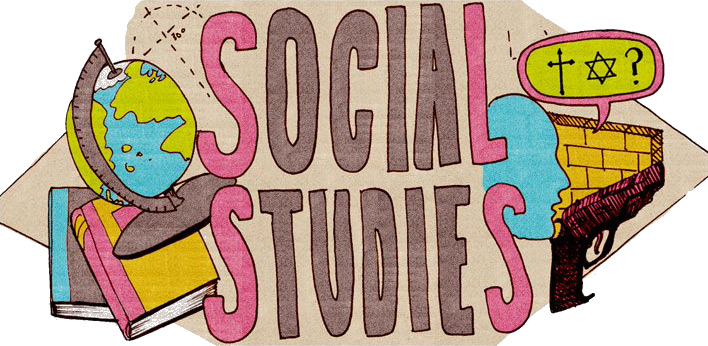 "Strategies Parents and Caregivers Can Implement to Address Anxiety Related Symptoms in Their Students" Online Discussion on December 5
Please join us on December 3, 2023, from 6pm to 7:30pm for a virtual discussion titled "Strategies Parents and Caregivers Can Implement to Address Anxiety Related Symptoms in Their Students." The discussion will be presented by guest speaker Marlena Jenkins.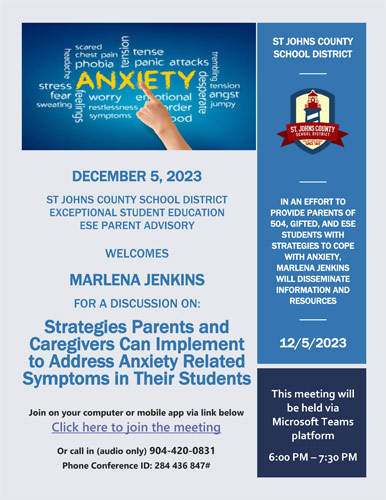 This is just a reminder that anyone (parent, guardian, neighbor, aunt, uncle, etc.) must have school access to attend an event at SPMS, including IEP/504 meetings. If you have not already done so, please complete the School Access Form. The process for approval may take up to 4 weeks, so please fill out the application sooner than later for anyone that would like to have school access. Once the application is approved, school access will be valid for three years.
FortifyFL is a website and app developed at the direction of the Florida Legislature. Any student, educator, parent or member of the public can report school safety concerns directly to law enforcement and school administrators anonymously and easily through the FortifyFL app or getfortifyfl.com.