Wednesday – June 1
Thursday – June 2
Last Day of School 
Dismissal at 12:50
Summer camps are open for sign ups
Time to Register for Summer Camps
Summer is just around the corner. Looking for affordable summer camps to keep your middle schooler busy and engaged. SPMS offers a variety of camps for your child. Camps include:
Basketball Camp
Band Camp
Volleyball Camp
Incoming 6th Grade Camp
BTHS also offers camps
For more information, please visit the camp page. 
Important Message Regarding COVID Screening and Quarantine Information
REMINDER:
Review the
Health Questionnaire
daily with your student. Students MUST stay home from school when they are ill, awaiting COVID-19 test results, or if anyone in the household is COVID-19 positive. Thank you for partnering with us to help protect the safety of all students and staff.
PARENTS: To report a positive case of COVID-19, please first call the Department of Health at (904) 506-6081 for guidance on next steps. Please contact the SPMS Clinic as well at (904)547-8628. To report a positive COVID-19 test result to the front office after hours, please call the school's main number and leave a message.
For more information regarding COVID-19 school district procedures please visit https://www.stjohns.k12.fl.us/news/topic/covid-19-coronavirus/. Please visit the link below to find out more information on SPMS procedures. 
Class Size Letter 2021-2022
School Safety Letter 2021-2022
This site includes hundreds of interactive resources to support student learning in language arts, mathematics, science, and civics. The site is readily available to the public and does not require a logon or password to access. The site is designed to support students outside of the school day. The resources are not meant to be used as classroom lessons or to replace classroom instruction.
This is just a reminder that anyone (parent, guardian, neighbor, aunt, uncle, etc.) must have school access to attend an event at SPMS, including IEP/504 meetings. If you have not already done so, please complete the School Access Form. The process for approval may take up to 4 weeks, so please fill out the application sooner than later for anyone that would like to have school access. Once the application is approved, school access will be valid for three years.
FortifyFL is a website and app developed at the direction of the Florida Legislature. Any student, educator, parent or member of the public can report school safety concerns directly to law enforcement and school administrators anonymously and easily through the FortifyFL app or getfortifyfl.com.
2021-2022 Instructional Materials Adoption for Mathematics UPDATE
On February 8, 2022, the St. Johns County School Board voted to approve the list of recommended resources for adoption for Math. View the final list of approved resources. Florida Statute allows parents or residents of the county to object to the adoption of a specific instructional material. If you would like to contest the adoption of the Math resources, you must complete the Reconsideration of Instructional Materials Request Form and submit it to the SJCSD Instructional Resources and Media Services Department no later than noon on March 10, 2022.
Please visit our Instructional Materials Adoption web page to:
Access the math resources that are being considered for adoption.
Learn more about the policies and procedures for textbook adoption.
B.E.S.T. Standards Presentation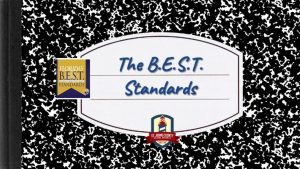 The purpose of the video is to provide parents and community members with information about the new B.E.S.T. Standards for English Language Arts and math. The video also explains the timeline for the implementation of the new standards.
View the B.E.S.T. Standards Presentation