PTSO UPDATES

Tickets can still be purchased for this Saturday's SPMS Spirit Night at the Jacksonville Icemen hockey game! Please visit www.jacksonvilleicemen.com/SP to purchase. We can't wait to see you there!
RED RIBBON/SPIRIT WEEK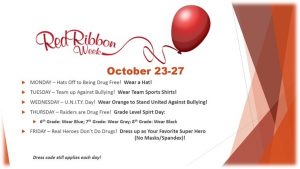 Red Ribbon Week (anti-drug awareness) and U.N.I.T.Y Day (anti-bullying) will take place next week with dress-up challenges, student-created PSAs and posters designed by our WEB Class, daily guidance challenges and more surprises! We will track participation each day by grade level to kick-off our year long Character Challenge!
RAIDER RAP
Welcome SPMS families!  Want to keep up on the latest SPMS news?  Please take a moment to sign up for our weekly newsletter, The Raider Rap.  Once you sign up, we will send you a weekly email every Friday. To sign up:  http://www-raider.stjohns.k12.fl.us/rap/sign-up/
NEW STUDENT REGISTRATION
New student registration is completed by appointment. For more information on registering your student, please visit our Guidance Page:http://www-raider.stjohns.k12.fl.us/guidance/new-student-registration/ . To set up a registration appointment, please contact Norma Miller at 904-547-8626 or by email at [email protected] .
Florida Standards

---
This site includes hundreds of interactive resources to support student learning in language arts, mathematics, science and civics. The site is readily available to the public and does not require a logon or password to access. The site is designed to support students outside of the school day. The resources are not meant to be used as classroom lessons or to replace classroom instruction.
Premier     

     Sponsor 
---
---